Facebook Messenger Bulksender
65.00€
Description
Is when Facebook Messenger and MailChimp have a baby.
Messenger Sender was born to amplify your most important asset: Customer Base
Tip: Use this plugin with Facebook Messenger for WordPress (Live Chat version) to increase messages to your inbox, it means increasing your customers audience to send bulk messages. More than that, you can use Facebook Messenger Auto-Reply to trigger users comment on your Facebook page posts, automatically reply below the comment and send inbox message to those who commented. Therefore, it helps increase the chance of bulk sender collecting your leads.
FEATURES
100% INBOX
This is a Facebook feature. It works because that's the way Facebook wants it to work.
GAIN PROMINENT PRESENCE
Stand out from the crowds by putting your greetings, newsletters, promotions, etc. to your fans' INBOX.
SHORTCUT TO BULK MESSAGING
Sending bulk messages to your Facebook audience in a few click.
UNLIMITED ADS WITH $0
Reach your customers frequently WITHOUT monthly fee!
NEW POSSIBILITIES
You might already have heard about the Facebook custom audience. Now you know brand-new ways to exploit it.
GET IT ALL DONE EFFECTIVELY
You only need to tailor your messages and leave the rest for Sender.
EASY TO USE
We make it very simple to work out.
AND MORE…
Purchase to explore and experience more…
RICH FUTURE DEVELOPMENT
There are plenty of features we currently have in mind. Conditional filter, export, combined with bots, to name a few. We only need some encouragement from the initial sales from YOU!
WHY BULKSENDER IS THE BETTER CHOICE
Think about MailChimp.
How much do you spend each month
When have you a customer base of thousands of contacts?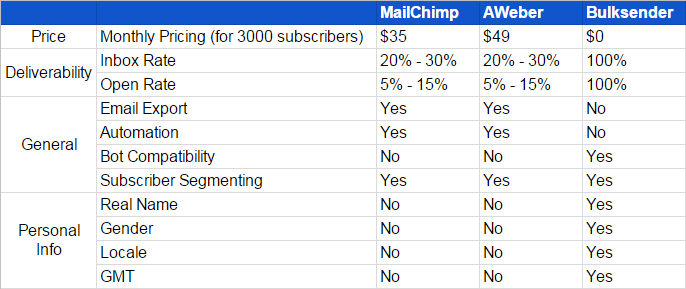 Source:
https://mailchimp.com/resources/research/email-marketing-benchmarks/
https://www.quora.com/topic/Email-Marketing
DOCUMENTATION
FULL TUTORIAL
ARTICLE How to set up Facebook Messenger Bulk Sender Plugin
Other documents
READ How to create an Facebook App ID and App Secret
READ How to get Facebook Page Access Token
WATCH How to get Facebook Page Access Token
WATCH Send bulk messages to categorized subscribers
Note: As new Facebook policy, your FB app need approve page_messaging permission to use this app, it's easy to get approve, or you can send a message to our support team to get help.
CHANGELOG
Sep 4, 2017 – Version 1.7
- Updated: New Facebook SDK
- Improved: Send message, filter, settings
- Improved: UI/UX
- Fixed: Some bugs

Jun 25, 2017 – Version 1.6
- Added: Hooks for developers
- Fixed: Adding web hook

Mar 18, 2017 – Version 1.5.5
- Get unlimited pages

Mar 10, 2017 – Version 1.5.4
- Added Unsubscribe button

Mar 6, 2017 – Version 1.5.3
- Improve some function
- Added category's description

Feb 28, 2017 – Version 1.5.2
- Fixed: small bug with the filter.

Feb 25, 2017 – Version 1.5.1
- Fixed: Class Locale not found

Feb 23, 2017 – Version 1.5
- Added: Categories for subscribers
- Added: First Name and Last Name tag
- Added: 1000+ emotion icons support for Facebook
- Added: Video tutorial get custom token https://www.youtube.com/watch?v=Zb8YWXlXo-k
- Added: Some small features such as subscribers count, process bar, etc
- Improved: Sending screen
- Improved: UX/UI
- Fixed: Some small bugs

Feb 6, 2017 – Version 1.4
- Added: Send messages with custom token
- Added: Send messages to selected users
- Added: Search users

Jan 28, 2017 – Version 1.3.1
- Fixed: Send messages

Jan 27, 2017 – Version 1.3
- Added: Reconnect to Facebook function
- Fixed: Improtant bugs

Jan 26, 2017 – Version 1.2
- Fixed: Some small bugs
Jan 25, 2017 – Version 1.1
- Fixed: 404 error
Jan 21, 2017 – Version 1.0
- Version 1.0 Initial Release